Back
The Background of the Digital Israel National Initiative
Many countries identified early on the need to set forth a broad national digital policy. Among the OECD countries, 27 had such a policy in 2015, and two additional countries are in the process of formulating a National Digital Program[16].
The national program currently implemented in many countries is not that country's first strategic digital program, but rather a program continuing prior programs published and implemented over the past decade.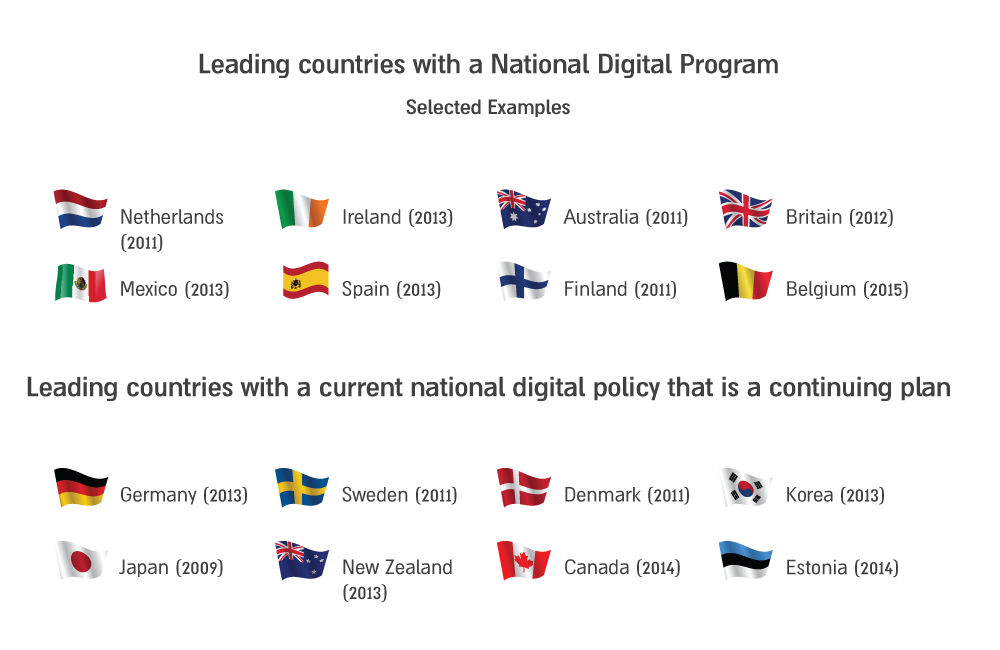 The need to formulate a digital strategy for Israel was already recognized in 2013, when in May of that year the National Initiative was defined as one of the six strategic issues that should be addressed by the government and was included in the national socio-economic assessment presented by the National Economic Council. This was followed by the approval of Government Resolution No. 1046 to establish the National Initiative that will formulate and implement a national policy for using information and communication technologies[17]. The resolution defined key core areas – education, health, economics, and social affairs and social services, for which ministerial implementation teams would be established. Also defined were horizontal areas such as adapting the government procurement policy and regulation to the digital age.
In October 2014, the Israeli government approved Government Resolution No. 2097 that included a section on the advancement of the "Digital Israel" National Initiative, and specified additional areas such as developing human capital needed to implement the goals of the National Initiative, promoting the deployment cross-government ICT infrastructures and developing e-Gov services for the public[18]. In 2015, as part of government's approval of the national strategic socio-economic assessment for that year that defined the National Initiative as a strategic national issue, the government approved steps to be taken in order to formulate a National Digital Program, alongside developing ministerial and inter-ministerial digital programs as well as programs for advancing cross-government components of the National Initiative[19] . Additional core areas were defined as part of the resolution, such as local government and law, for which ministerial implementation teams would be established.
In the framework of these resolutions, it was decided to establish a central unit to coordinate and integrate the activities of the National Initiative– the Digital Israel Bureau that was established in the Prime Minister's Office and in 2015 came under the responsibility of the Ministry for Social Equality. The Bureau's responsibilities include formulating the National Digital Program; coordinating the work of the designated inter-ministerial steering committee established to advance the National Initiative; accompanying implementation of the National Initiative in the various government ministries while creating collaborations between them; accompanying the implementation teams and helping to formulate ministerial digital programs; building collaborations with the business sector in Israel and the world, and leading a permanent inter-sector discourse between government ministries, the business sector and the third sector – in the aim of solving economic and social problems by using ICT technologies; and developing inter-ministry digital processes and leading their implementation[20].