Back
Part B – Introduction: The Structure of the National Digital Program
The National Digital Program reflects the digital policy of the government of Israel for the years 2017-2022. To achieve the National Initiative's primary goals, three strategic objectives were defined for each primary goal, representing the areas with the greatest impact potential on which the government will focus as part of the Initiative.
Furthermore, operating areas were specified for each of the strategic objectives so that achievement of the objectives can be tracked and the various initiatives that will be carried out as part of the National Initiative can be evaluated: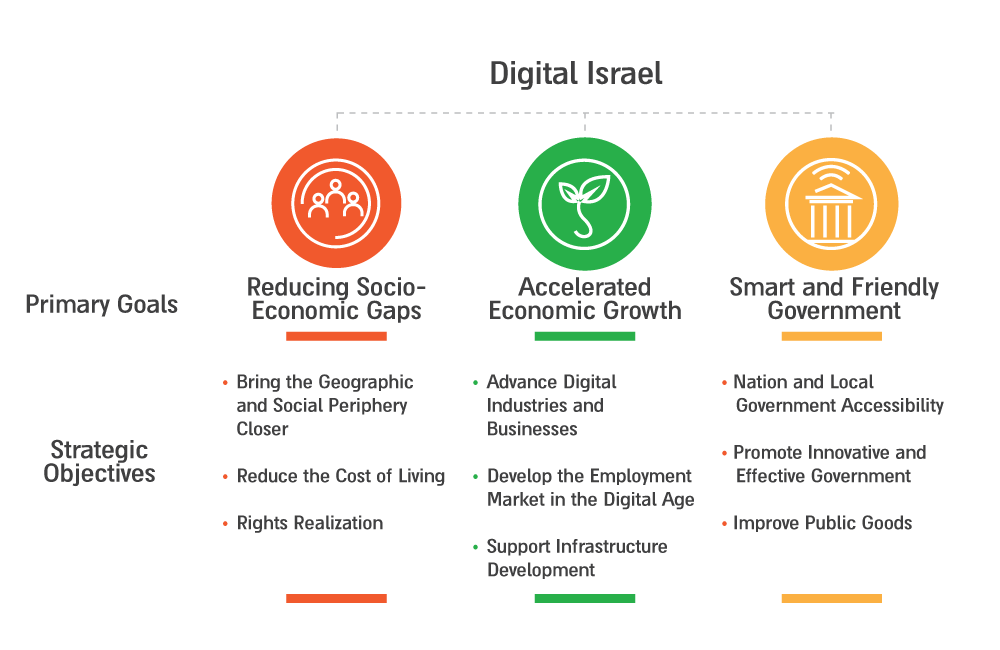 The following chapters describe the background for the choice of each primary goal, the strategic objectives derived from the goal and their focus on specific areas. Also detailed are the main initiatives currently promoted by the government, or that will be promoted in the future.
The Digital Israel Bureau plays a vital role in leading the National Digital Program and in promoting the National Initiative, but is not directly responsible for all initiatives and activities that will be conducted as part of the National Initiative – each of the partners to the Initiative is responsible for realizing the National Initiative in its area. How the Initiative is implemented and the partners to the National Initiative are described in detail in Part C – "The Operating Concept of the Digital Israel Initiative".
The National Digital Program presented here serves as a compass for a digital strategy of the public sector and the government as a whole. The aim is that government ministries and additional entities will promote, on their own initiative, the formulation of a digital strategy for their organization and will take action to carry out a digital transformation in the areas under their responsibility in line with the objectives and principles of the National Initiative.
It should be noted that aside from the significant benefits to be gained from digitization processes, concerns may arise about harming data security and the right to privacy. Therefore, in respect to digitization processes that entail the processing and distribution of personal data that is or can be identifiable, or other types of sensitive data, implementation of the Digital Program will strike a balance between different aims, pursuant to the principles and weighed considerations set forth in government Resolution 1933 adopted August 30, 2016, and in compliance with the law. Furthermore, the National Digital Program will be implemented congruent with the requirements of the laws and regulations regarding accessibility for persons with a disability.