Improve Digital Literacy in the Geographic and Social Periphery
Digital literacy describes the various technical skills for working with computers and using the Internet needed to function in everyday life and in the modern employment market. This literacy is divided into two levels: basic and advanced.
Basic digital literacy includes: use of the computer and the Internet, searching for information, finding employment through digital channels, using email and social media, use of government services, self-learning competencies and using office applications.
Advanced digital literacy includes competencies such as information processing and research, online consumption and online banking.
As part of the "digital divide" in Israel, segments of the population from the geographic and social periphery suffer from less access to advanced infrastructures and end-user equipment, and from a lack of digital and technological skills[25].
The half of the population that does not use the Internet at all belongs to the Jewish ultra-orthodox and the Israeli Arab sectors. Additionally, about half the elderly population is not digitally literate[26]. These populations are the focus of the activities of the Ministry for Social Equality. Furthermore, in Israel there is a strong link between lack of digital literacy and certain segments of the population (the Jewish ultra-orthodox and Arab Israeli sectors, those 55+ years of age and those with low incomes)[27]. These groups may find themselves excluded from receiving quality and online government services and from access to information, limiting their engaging with suppliers, service providers and employers, impairing their ability to make informed purchases online and to acquire tools suited for the modern employment market.
Concomitantly, to enable the citizens of Israel to fully benefit from the advantages of digitization, it is necessary to ensure that the population as a whole will be able to acquire advanced literacy skills, among them competencies for conducting research and information processing, online purchases and online banking.
The Digital Israel Bureau, in cooperation with government offices and other entities, is responsible for formulating and leading a strategic national program fully dedicated to advancing digital literacy in Israeli society, with an emphasis on the periphery and weakened populations.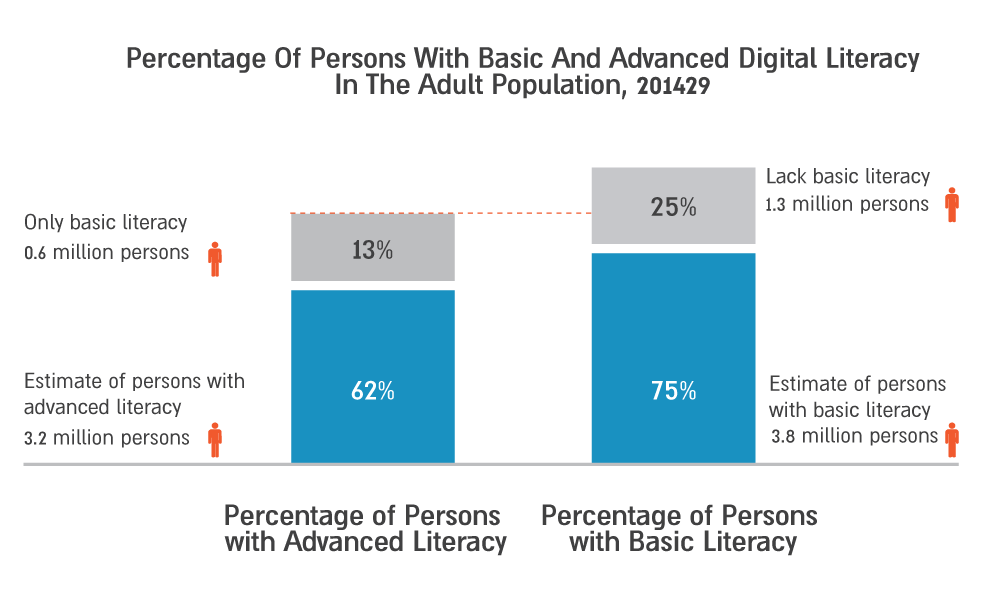 "Digital Communities" – Narrowing Digital Gaps among Populations in the Social and Geographic Periphery

As part of the "Digital Communities" project, digital literacy training is planned in various cities and towns, with a variety of programs offered in each locale in the aim of raising awareness and teaching computer and internet use. The programs will be operated concurrently and will be inter-related, harnessing all relevant government and community entities in the locale – local government, non-profit organizations and business entities, and leveraging existing infrastructures in the locale for the benefit of the program.
The programs will be based on leveraging existing infrastructures – study programs, centers with computers, instructors and contact with the local government, while using innovative means such as blended-learning courses on the National Platform for Online Learning.